Whaboo.org –
Rehat satu tahun dan kembali dalam salah satu bentuk terbaiknya, tidak ada lagi kalimat yang lebih tepat untuk menjelaskan keseluruhan pengalaman seperti apa yang akan Anda dapatkan dengan game terbaru Ubisoft – Assassin's Creed: Origins. Petualangan yang mengawali kisah dari para Assassin ini memang mendapatkan puja-puji dari beragam pihak, terutama lewat kemampuan sang tim di belakang Black Flag untuk menciptakan atmosfer Mesir kuno yang fantastis. Seperti yang kita tahu, popularitas ini tidak hanya terjadi di kalangan gamer saja. Game JRPG populer – Final Fantasy XV bahkan menyelenggarkan event khusus untuk merayakan rilisnya. Dan seperti kerjasama pada umumnya, kini giliran Assassin's Creed Origins yang akan mendapatkan konten dari FFXV.
Update yang tengah direncanakan Ubisoft untuk AC: Origins di bulan Desember 2017 ini memang menarik. Tidak hanya menambahkan tingkat kesulitan yang baru dan mode Horde, update cuma-cuma ini juga akan menyuntikkan fitur scaling level untuk Anda yang merasa bahwa tingkat kesulitan di akhir mulai terlalu mudah. Lewat sebuah teaser pendek pula, kerjasama antara Final Fantasy dan AC: Origins sepertinya sudah terlihat. Jika FFXV kedatangan festival dengan kostum Assassin's Creed di dalamnya, AC: Origins sepertinya akan memungkinkan Bayek untuk menunggangi "ayam" khas franchise Square Enix – Chocobo. Setidaknya, Anda bisa melihatnya dari ekor yang ada.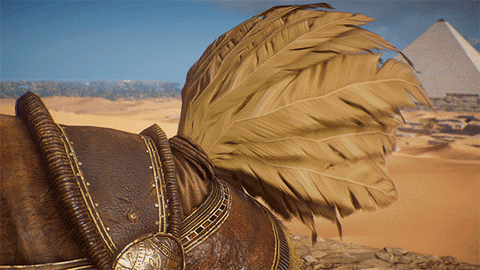 Ubisoft juga memastikan bahwa update bulan Desember tersebut juga akan menyuntikkan sesi Trial of the Gods terakhir yang akan menjadikan dewa Sekhmet sebagai musuh. Bagaimana dengan Anda sendiri? Berapa banyak dari Anda yang sudah mencicipi Assassin's Creed Origins?

Tags: action, assassin's creed: origins, final fantasy xv, gamingnews, RPG, square enix, Ubisoft
Source link