Whaboo.org –
Seperti halnya sebagian besar media gaming dan acara penghargaan bergengsi yang terus melakukan rutinitas tahunan untuk memilih game-game terbaik sepanjang tahun, portal distribusi digital milik Valve – Steam juga melakukan hal yang sama. Bersamaan dengan masa diskon akhir tahun besar-besaran yang diselenggarakan, penyelenggaraan untuk The Steam Awards 2017 ini akhirnya rampung. Berbeda dengan kebanyakan pemilihan Game of the Year yang lain, Steam Awards menyerahkan keseluruhan keputusan tersebut pada pilihan gamer dengan nama kategori yang aneh pula. Lantas, siapa saja yang berhasil memenangkannya? Ini dia:
Berdasarkan voting yang dilakukan secara harian selama masa diskon akhir tahun berlangsung kemarin, para pemenang untuk setiap kategori The Steam Awards 2017 pun diumumkan. Tentu saja, mengingat nominasi yang sempat diumumkan sebelumnya, pemenang-pemenang ini tentu tidak hanya dibatasi pada game-game yang dirilis di tahun 2017 saja. Bahkan, harus diakui jika dibandingkan dengan "penghargaan" tahunan yang lain, The Steam Awards paling banyak memuat game lawas sebagai pemenang di dalamnya.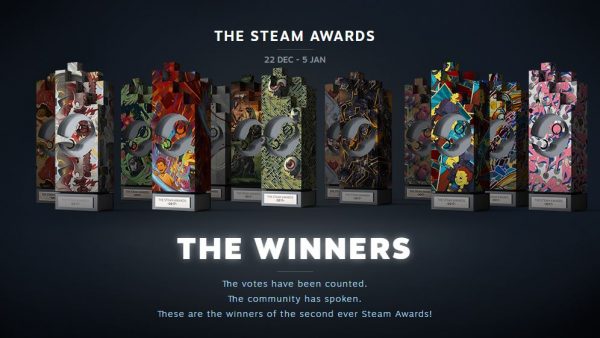 The "Choice Matter" Award
(Game yang menyediakan pilihan dalam permainan, menghasilkan cabang cerita)
The Witcher 3: Wild Hunt
The "Mom's Spaghetti" Award
(Game yang siap untuk membuat Anda senang, tetapi juga ketakutan)
PLAYERUNKNOWN'S BATTLEGROUNDS
The "Labor of Love" Award
(Game yang sudah dirilis lama, namun terus mendapatkan dukungan konten baru)
Warframe
The "Suspension of Disbelief" Award
(Game yang terasa dan terlihat gila, tetapi saat dimainkan, ternyata masuk akal)
Rocket League
The "The World is Grim Enough Let's Just All Get Along" Award
(Game menyenangkan yang memberikan hiburan di saat terburuk kita di tahun 2017 ini)
Stardew Valley
The "No Apologies" Award
(Game yang kamu cintai apa adanya, terlepas dari beberapa kesalahan yang ia miliki)
The Witcher: Enhanced Edition (The Witcher 1)
The "Defies Description" Award
(Game yang tidak bisa dijelaskan dengan kata-kata. Mainkan saja!)
Garry's Mod
The "Cry Havoc and Let Slip the Dogs of War" Award
(Game yang meminta Anda berperan jadi Agen kekacauan)
Just Cause 3
The "Haunts my Dreams" Awards
(Game yang menuntut Anda untuk mengorbankan waktu yang sangat banyak)
Counter-Strike: Global Offensive
The "Soul of Vitruvius" Award
(Game yang memuat karakter yang paling mudah dicintai)
Rise of the Tomb Raider
The "Whoaaaaaa, Dude! 2.0" Award
(Game yang membuat Anda seperti baru mengkonsumsi halusinogen)
The Evil Within 2
The "Best Soundtrack" Award
(Game yang menawarkan soundtrack terbaik)
Cuphead
The "Even Better than I Expected" Award
(Game yang ternyata berakhir lebih baik dibandingkan yang kita harapkan)
Cuphead
Bagaimana dengan Anda sendiri? Anda setuju dengan pilihan pemenang untuk The Steam Awards 2017 ini?

Tags: gamingnews, pc, steam, valve
Source link