Whaboo.org –
Memang tidak berlebihan untuk menyebutnya sebagai salah satu game Playstation 2 terbaik, sekaligus salah satu game paling keren yang pernah dirilis sepanjang masa. Bagaimana tidak? Ketika definisi game action seringkali berakhir membuat Anda berperan sebagai karakter utama yang mampu dengan mudahnya menghabisi puluhan hingga ratusan musuh, Shadow of Colossus meminta Anda untuk mencari cara membunuh para monster yang ukurannya berakhir puluhan kali lipat Anda. Tidak hanya satu, tetapi belasan monster ini datang dengan kekuatan dan kelemahan mereka masing-masing. Semuanya dibalut misteri soal karakter dan plot yang tidak pernah dijelaskan secara eksplisit. Kini, game terbaik itu siap tiba ke Playstation 4.
Seperti yang kita tahu, proses "Remake" untuk Shadow of Colossus memang sudah diumumkan oleh Sony sejak E3 2017 yang lalu. Proses yang sepertinya berjalan cukup mulus di tangan Bluepoint Games memang memperlihatkan perbedaan visual yang menakjubkan. Terasa seperti game rilis platform masa kini, mereka juga berambisi untuk mempertahankan inti gameplay dan sensasi permainan seperti versi originalnya. Di acara Playstation Experience 2017 minggu lalu, Sony ternyata sempat merilis trailer perbandingan antara tiga versi: Original – PS2, Remaster – PS3, dan Remake – PS4. Anda bisa melihat seberapa besar peningkatan visual yang ditawarkan.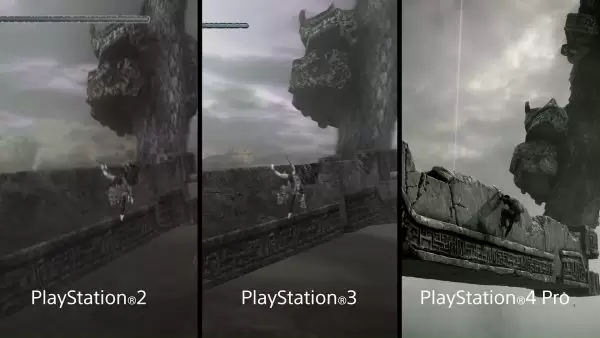 Shadow of Colossus versi Playstation 4 ini sendiri rencananya akan dirilis pada tanggal 6 Februari 2018 mendatang, dan akan tetap eksklusif. Holy..
Source link